Verband Deutscher Schlittenhundesport Vereine e.V
---
ACHTUNG! Das Rennen wurde um eine Woche auf 29.1./30.1.22 verschoben!
CAUTION! The race has been postponed by one week to 29.1./30.1.22!
Liebe Zughunde-Sportlerinnen und -Sportler, liebe Musher,
es freut uns sehr, dass Sie an unserem VDSV-Rennen ausgerichtet durch den BWSC, teilnehmen möchten.
Informationen zur Veranstaltung entnehmen Sie bitte der Ausschreibung (zum Download auf das Bild klicken):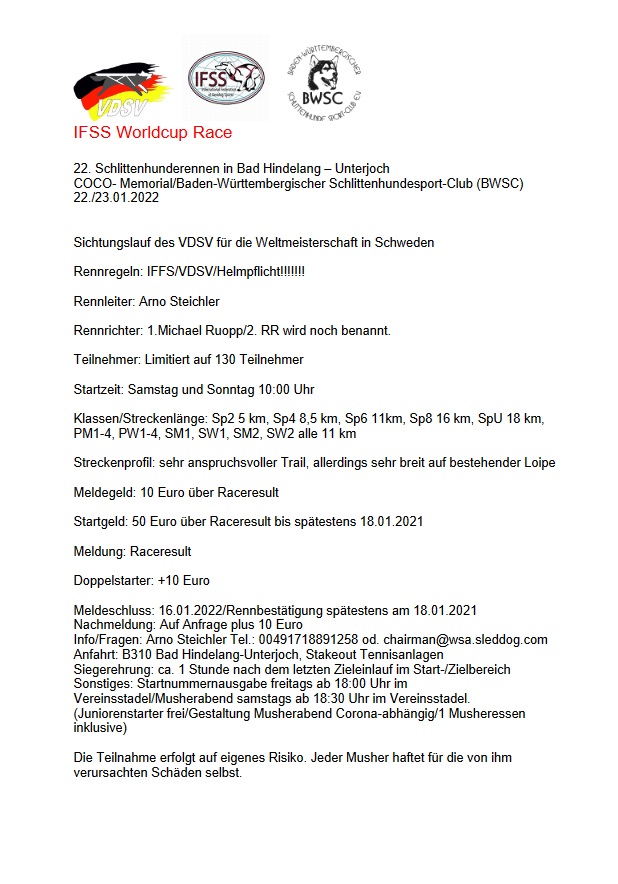 Bitte lesen Sie auch insbesondere die folgenden Unterlagen, mit der Anmeldung muss die Kenntnis bestätigt werden:
Good Mush!
BWSC Orgateam